The West Coast Academy—Haikou, Hainan

Philosophy

The core of any golf instruction program is its friendly instructors and their ability to create a comprehensive work plan. Brett Brasier is arguably one of the finest golf instructors based in Asia. All instruction is based on his practical and technical experience and formal training of swing plane mechanics which Brett and his staff will teach you at 'West Coast Academy' whether you're a beginner or advanced player.
Traditional PGA Instruction
&
Contact Information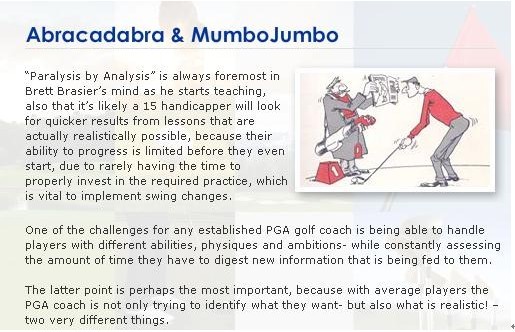 At West Coast our approach is to personalize instruction for everybody- therefore increasing knowledge, confidence and control of the golf swing. Brett believes that it's not just
fixing one area
. It's understanding the swing as a process and developing a personal, comprehensive and systematic approach to improve your game.
Brett help's everybody to try and understand the game of golf as a "journey," which is comprised of all the different areas that make up a successful player, including the full flowing swing, short game, course playing management & mental training. You will learn the importance of ball flight, how to recognize your own swing flaws as they occur and how to make corrections. West Coast Academy's goal is to assist you in playing better and to understand perhaps why you must make some changes to achieve your personal aim. This individual
formula
for improvement is what makes proficient golfers stand out.
For enquiries or to book lessons, please contact us:
Academy Reception: +86898—68703190
Brett's Mobile: 15248937380or Translator: 13647553629